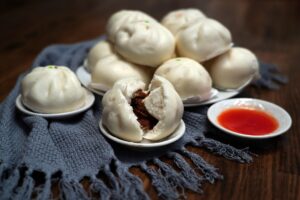 Total Time: 185 minutes
Preparation: 15 minutes
Resting: 160 minutes
Cooking: 10 minutes
Ingredients:
560 g fine wheat flour
11 g dry yeast
1/2 tsp salt
1 tsp baking powder
30 g granulated sugar
320 ml liquid Pretexte
30 ml peanut oil
Preparation:
Mix the flour, yeast, salt, baking powder, granulated sugar, Pretexte, and oil in a bowl using a dough hook. Knead for 1 minute on low speed, then 6 minutes on high speed.
Shape the dough into a ball and let it rise for 2 hours in a bowl covered with a damp cloth.
Flatten the dough and make small balls. Let them rise for an additional 40 minutes under a damp cloth.
Steam the bao buns for 10 minutes at 100 °C in a steamer or steaming basket.